Last Updated on 04/06/2022 by OTC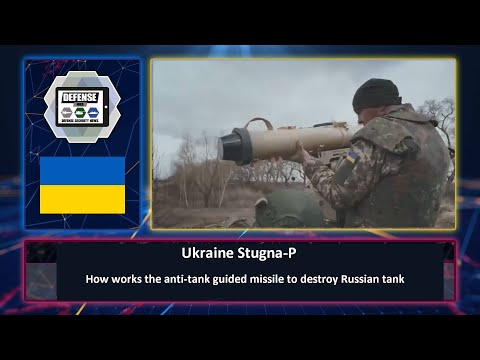 A video was released on Twitter showing the use of the Ukrainian-made Stugna-P anti-tank guided missile to destroy a Russian tank. The launcher unit of the Stugna-P consists of a tripod, a missile container, a guidance device and a computer used to control all the firing operations and allow the operator to remotely control the launcher station from a safe distance of up to 50 m. The laser guidance sighting system is the PN-I that can be used during day and night conditions with a firing range from 50 to 5,000 m.
The missile can engage targets from 100 to 5,000 m, with flying time to the maximum range not exceeding 14.3 seconds. It can be equipped with different types of warheads including tandem cumulative, high-explosive fragmentation, or thermobaric.
Read full fact sheet of Stugna-P at this link https://www.armyrecognition.com/ukraine_ukrainian_army_vehicle_missile_system_uk/stugna_stugna-p_anti-tank_guided_missile_technical_data_sheet_specifications_description_information.html
Visit our online defense and security magazines and read more news at:
Army Recognition https://www.armyrecognition.com
Navy Recognition https://www.navyrecognition.com
Air Recognition https://www.airrecognition.com
Army Recognition Group
Global Defense & Security News
Defense & Security News Web TV
Online magazine for defense and security industry
Worldwide Defense & Security News
Marketing and advertising for Defense & Security Industry and Exhibition
Email: marketing@armyrecognition.com